We emphasize the fact that breakfast is the most important meal of the day. So start your day off with us by sampling from a large buffet spread, followed by a unique hot breakfast dish each day.
7:30 – 9 AM. Some seasonal changes may apply.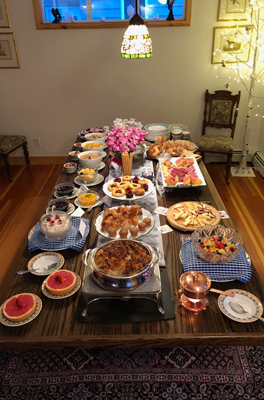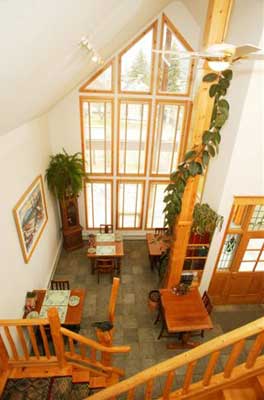 Buffet-Brunch Samplings
Coffee
Enjoy our locally roasted Thea's House Blend from Mountain Blends in Canmore or a fine Nespresso cappuccino.
Naturel Tea
Our blends of Organic tea leaf, spices, and local herbs are fresh, sweet & flavorful.
Healthy Start
Choose from various granola cereals (gluten-free also available) and make your own parfaits from our home-made fruit compotes, berries & fruits, and a selection of yogurts. We also offer fruits juices (smoothies) and our authentic Swiss Bircher Müsli, made with dried fruits, oat, hazelnuts and apples.
Bread & Jams Croissants, baguette, rye bread, Danish pastries and home-made jams are a daily standard.
Cheese
We offer a changing selection of domestic and imported cheeses that you may sample. Some of which include
Oka, Brie, Gruyère, Emmental, Boursin, Smoked Gouda, Cheddar, Goat, Italian Friulane and Swiss Tête de Moine.
Meats, Charcuterie and Pâtés
Our daily selection may include: Bone-In baked ham, our own roasted Alberta beef, Prosciutto, Mortadella,
Genoa salami, smoked bison, wild boar pâté and our special Bündnerfleisch-air dried beef.
Chef Surprises
Our daily surprise may include: Smoked salmon carpaccio, avocado & tuna crostini, classic shrimp "Marie Rose", roasted Brome lake duck breast canapés, baked ham & Brie croissants, meat empanadas and for those with a sweet tooth, bread & butter pudding.
Hot Weekly Breakfast Dishes
Smoked Salmon Benny *gf
Mountain Guide Breakfast *gf
Crêpes topped with Raspberries, Berry Coulis and Whipping Cream
Breakfast Barley Chowder with Poached Eggs and Double Smoked Bacon*gf
Crème Brûlée stuffed French Toast
Spinach & Goat Cheese Frittata
French Omelette *gf
We would appreciate if you can advise us in advance of any dietary restrictions.
*gf stands for Gluten-Free